HELP US GET THERE!!!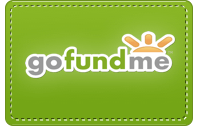 I tend to be a bit of an over-thinker. As a child of ten years old, I would lay in bed at night wondering if I was pulling my weight in making the world what it should be. I worried about my relationships and whether I was caring for people well enough, afraid that I wasn't making enough of an effort to provide something for others. As my senior year of high school progressed, I moved closer and closer to having a nervous breakdown over the question of what I should do after graduating. I really didn't want to screw up God's plans. Big decisions completely unnerved me, because my tendency is to assume that one big choice will define whether the rest of my life is used for good or an utter disaster. I've learned a lot in experiences like these over the years, but my knee-jerk reaction to any crazy commitment on the horizon is to assume that my identity and my future are all bound up in my ability to navigate the circumstances.
The first time I experienced a decision even a little differently was in choosing to get married. I had looked forward to marriage and family since I was only a child myself, so this decision was set to be the biggest stress point in my life thus far. But as I got to know Lisa and consider our possible future together, I prayed about it and began to recognize a very different option for the decision-making process. My typical response to a big decision might be to start to sweat as I frantically pray "God, just tell me what to do and I will follow you into anything. Make the best option clear and I'm in." But this time, something different happened. As I began to pray, God began to reform the way I processed the decision. He re-framed the frantic search as a conversation between the two of us. As usual, He didn't give me a straight answer. Instead, He began to give me little hints and glimpses into the person He made Lisa to be. It was like He was saying "This is what I made this woman to be like one day. If you choose her as your wife, this is who you will have to honor of standing alongside after a lifetime of set-backs, mishaps, and hard won growth." It was up to me completely, but God gave me insight into the long-term repercussions of the decision. He didn't want to solve problems for me, He wanted to walk through all circumstances together with me. I was left unburdened and confident to make the decision myself.
That doesn't mean I have changed all that much. Some decisions come a little bit more easily than others, but the chaos we choose to put ourselves in the midst of is never easy to step into. Often, it actually takes a huge amount of work to intentionally put yourself into a ridiculously vulnerable position. When we decided that God wanted us to move to Oklahoma in 2011, we knew one couple in the entire state and ended up jobless within a month of arriving. Some of our good friends were offended that we me made such an apparently rash decision. Some went so far as to let me know that Lisa would never have acted that way if she hadn't married me, that I was failing as a provider for my family. Throughout that season, we felt terrible about our seeming lack of provision, about the fact that many of our friends had begun to openly scoff at our wild and reckless decision. But God (and those who anonymous supported us) kept us afloat while radically transforming our ability to trust Him, our ability to love one another in the midst of turmoil, and our ability to do good work in a more healthy way. We moved to Oklahoma divided, and we grew into a true family in our time there. In the midst of that experience, we doubled our network of great friends who have poured huge amounts of love and blessings and challenge out on our family. That time contained some of the most intensely uncomfortable, even painful experiences we have ever had, but we could not have been refined any other way. Often we even miss aspects of it.
God wants to relate to us through our decision making. He gives us opportunities to follow Him blindly into utterly foreign territory, to keep devoting ourselves to something beyond any sane level of commitment, before He shows His hand. He sometimes asks people to spend a century or two building a boat in a desert. He expects people to step out onto unruly waves with no reason to expect the universe to agree with their decision. Ultimately, the greatest moments in human history are when He asks us to build empty alters for worship and stand there beside them, expecting a sacrifice only he can provide.
HELP US GET THERE!!!